Description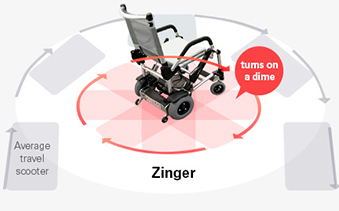 Designed for activity:
The Zinger climbs inclines up to 10°, has a 50% smaller turning radius, and is stable at faster speeds. And it can go up to 8 miles on a single charge
Multi-surface:

Grass, dirt, small gravel—the Zinger can handle it all. Indoors or outdoors, wherever you want to go, it will get you there.

Roll right up:

The Zinger has comfortable seating, and the arms fit under most tables and desks. So, you can relax and enjoy – and Zing back into action with ease.

Ultra-portable:

The Zinger folds down to a cozy 10″. It will fit into most backseats or trunks, with plenty of room.

Quick fold:

The Zinger Chair packs away quickly. Pull the release cable and it folds up or down instantly. No assembly is needed.

Fun & easy steering system:

Push both levers down to go, pull both levers up to stop, or use alternate lever actions to turn. There are three speed settings, plus reverse.